This site is dedicated to the relatively obscure (outside of Japan that is) film and television series Eko Eko Azarak. Here you will find a variety of info, reviews, and news on this tale of violence and witchcraft. I hope you enjoy this humble, not-too-flashy fan site I have created. Don't forget to sign the guestbook! Enjoy...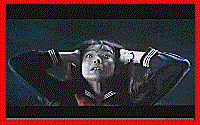 Scene from "Eko Eko Azarak: Wizard of Darkness".
NEW UPDATE! (11/01/08) - Hope you guys had a great Halloween, I know I did (hangovers aside). No new updates yet site-wise, but I plan on doing a substantial one in 2 weeks time from now. Until then, keep your eyes on this section.